Manage digital projects with expertise in web technologies, UX, agile methods
Full time | Saclay Campus, Palaiseau ; INA (Issy-Les-Moulineaux)
Supporting the digital transformation of companies
Designing digital services for the media, culture and industry
Understanding the strategic and editorial dimension of digital media production
Training digital experts
Video and other digital media are developing and becoming strategic for companies. Designing digital services that use them is essential for many sectors, including: training, press, audiovisual, entertainment …
One education, two complementary and powerful institutions
Télécom Paris and INA SUP have combined their skills to offer high-level teaching based on the excellence and richness of the teachers' training, the value of their research and their professional experience. Télécom Paris provides the technical side, while INA SUP provides the processing and creation of content.
The Post Master's Degree® Digital Project Designer aims to train high-level managers, responsible for the strategic and editorial dimension of multimedia production, through a double technical expertise: the aspects of web technology and content.
This one-year, full-time professionalization program is designed for graduates with five years of higher education who wish to specialize or develop their careers to become experts in the creation of digital services.
This training is registered in the Répertoire National des Certifications Professionnelles (Title RNCP n°34052 of July 05, 2017 – official journal) for 5 years.
A double expertise to master project management
The digital project designer has the concrete know-how to design digital services in the form of sites, applications, and connected objects to meet the needs of companies. He/she masters web technologies, technological project management and the web of data.
Digital management requires skills in project management and content editorialization. This means mastering all aspects of a project, from interface design (to make it accessible) to content monetization (to make it viable), including digital marketing (to bring visibility) and legal aspects (to legally exploit this content).
The Post Master's Degree® Digital Project Designer provides versatility and in-depth knowledge in digital project management, website and application design, as well as interactive and multimedia content creation, thanks to a pedagogy that articulates academic learning, project completion and professional mission.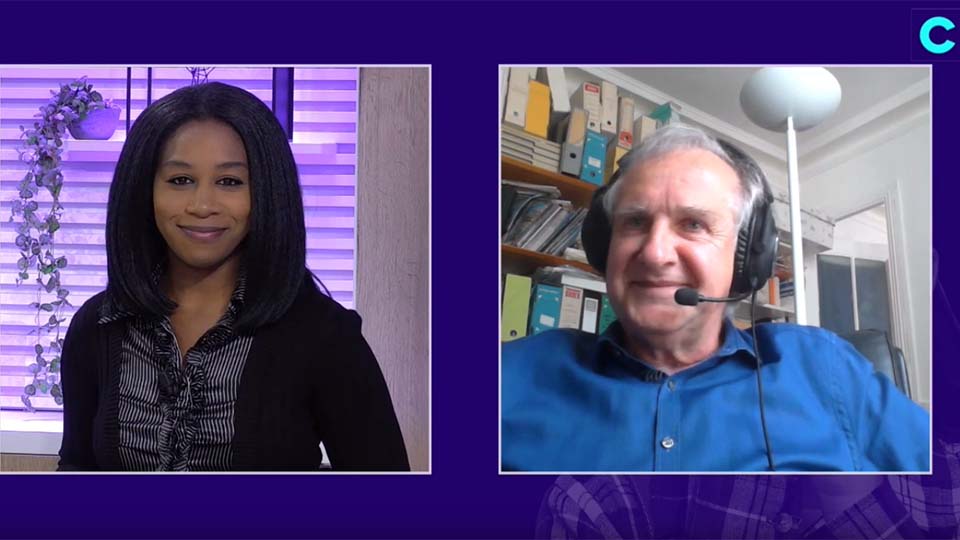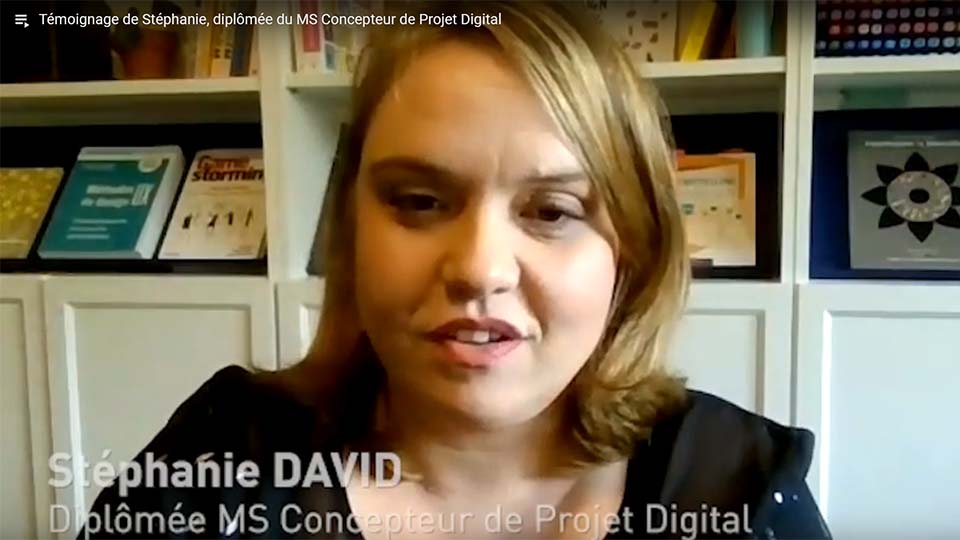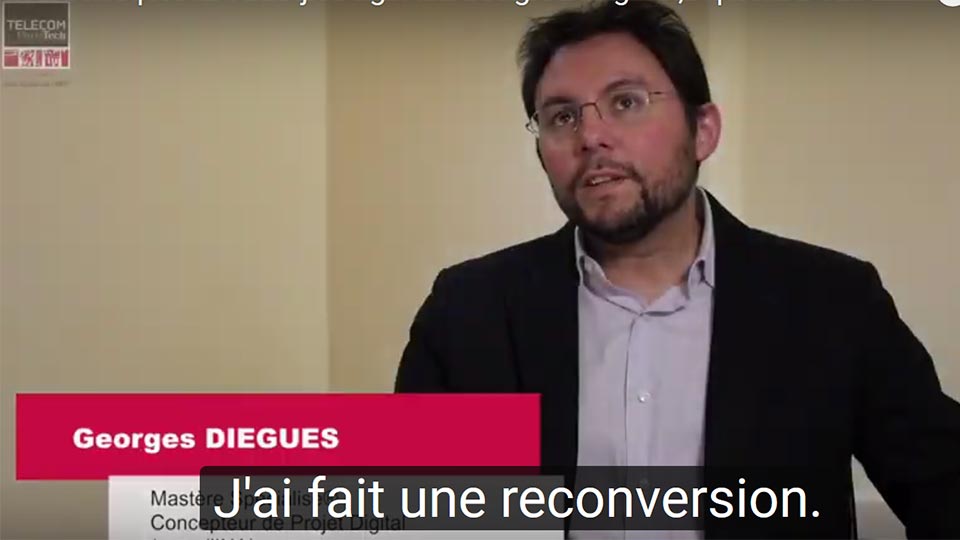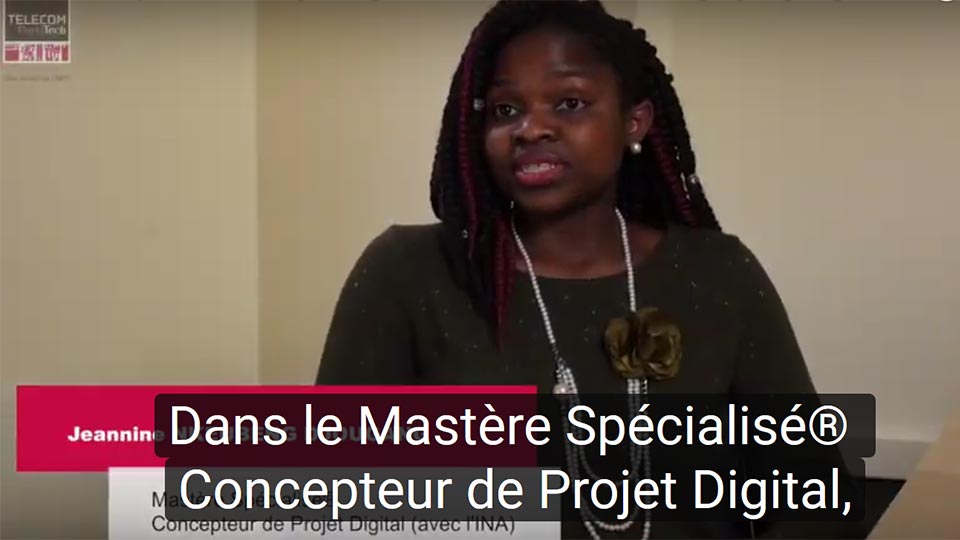 Training content
The training unfolds over 6 months, full-time, from October to March, divided between INA (Issy-Les-Moulineaux) and Télécom Paris.
A 4 to 6 month assignment in a company completes the theoretical training between April and September. This period leads to the writing of a professional thesis.
In partnership with
Pedagogy: Each class benefits from a diversity of profiles that brings a real sharing of know-how with a common point: the will to innovate. – A dual education provided by two complementary institutions, INA and Télécom Paris. – A professional thesis is defended after a period of 4 to 6 months in a company.
Teaching
Module 1: Engineering
Basic web techniques
Introduction to web development
Technical environment of web and mobile services
Hosting, referencing
Mobile Internet
Digital Media Asset Management
Module 2: Design and production of digital and interactive content
Digital media project management, agile methods
UX Design, Service Design and User Experience
Visual organization of computerized interfaces. Cultural resonance, UI Design
Design of a website/service in project mode
Digital media production techniques
Enriched web networks , modular web, web of data
Module 3: Strategy, law and management of multimedia production
The digital world: situation and prospects
Internet law and digital uses
Economic model and marketing of digital services
Web marketing and mobile marketing
Rich and varied classes
Coming from large industrial groups (Saint Gobain, Total, Nokia, Orange) as well as the media (TFI, Arte, Les Echos), the banking sector (BNP, Crédit Agricole) or the cultural sector (Louvre Museum, BNF, French Institute), the students bring different corporate cultures. Engineers, marketers, webmasters, journalists, editors, video editors, etc. work together and cross their experiences with a common point: the will to innovate.
Red thread project
The students work in groups to define a multimedia project that they will develop throughout the year, from the technical specifications to the creative copy, including the business plan and a prototype.
Professional thesis
The professional thesis is a privileged means of acquiring knowledge and an opportunity to put into practice, during an assignment in a company, the methods, techniques and tools studied during the course.
The professional thesis enables to develop a personal point of view on the activities carried out during the internship.
Example of thesis:
In the age of connected mobility, what future for open transit data?
The future of the digital book "Creating a sustainable economy" in connection with the publication of "Journey to the center of the earth", an interactive digital book.
From social media to data driven marketing.
Rethinking the offer of an e-learning provider in the context of MOOCS, social learning and corporate social networks.
Designing interactive devices for museums: issues and functions.
Career opportunities
Main recruiters: Communication agencies, major audiovisual media, advertisers, large groups.
The Post Master's Degree in Digital Project Designer enables students to acquire a dual expertise in digital services and in the design and operation of digital media.
This training is particularly aimed at the fields of culture, media, leisure, training and communication within companies and organizations that need to get into the heart of the digital transformation and adapt to changes in information and communication technologies related to the Internet, digital television, mobile terminals, etc.
Gradually, recruitment has opened up to other sectors, as the need for digital services is growing strongly.
I chose this Post Master's Degree® for its partnership between two major schools. Its unusual curriculum allows me to work on projects all year long and to deal with concrete issues. I have acquired a technical base and knowledge that allow me today to approach projects more easily, with a new perspective.
Abdelhak, former graduate, Alcatel Lucent International
The professions prepared by the MS CPD :
Digital Project Manager/Director
Web Project Manager/Director
Production Manager/Director
Online and offline publishing manager
User/Consumer Experience Manager
Design Operations Manager (Web/Mobile/TV)
Antenna Program Manager
Online Services Operations Manager
Companies that trust our graduates:
Publicis
France Télévision, Radio France, Canal+…
Locatel, IBM, Galeries Lafayette, Bureau Veritas, Renault…
At 40, I decided to further develop my skills in the digital world. This training has given me a lot of knowledge from a technical and methodological point of view. This Post Master's Degree® is a real satisfaction. Today, every time I send my application or put my CV online, they call me.
Nathalie, former graduate, public sector cultural industry:
Contact and request a brochure
Marliacy Catherine

marliacy

Catherine Marliacy

Référente des étudiants/CoordInatrice des études

Télécom Paris

email

email
The information collected here are subject to a processing by the Post-Master Degree Direction at Télécom Paris in order to respond to your information request. Such information can be used for internal statistical purposes and will be maintained for 1 year. The data controller is Télécom Paris.
In accordance with the Regulation (EU) 2016/679 (General Data Protection Regulation), you may exercise your rights of access, rectification, deletion and opposition to your personal data by writing to: dpo@imt.fr.
Télécom Paris
Jean-Claude Moissinac

Responsible for the Post Master's Degree

Télécom Paris

email

email
INA
Matthieu Richy-Dureteste

Responsible for the Post Master's Degree

INA